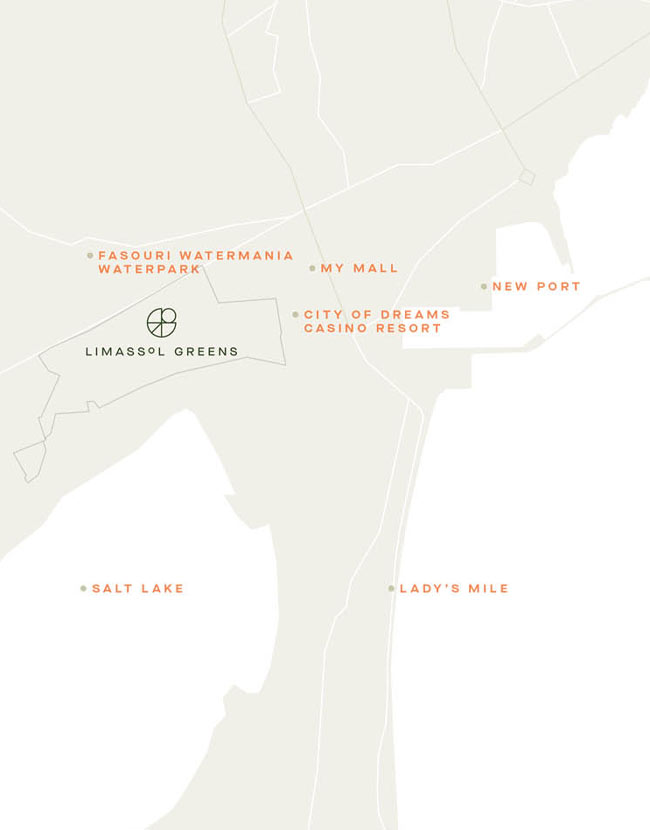 City of Dreams
Limassol Greens is being developed next to the largest casino in the Mediterranean. Set to open its doors in the summer of 2022, City of Dreams Mediterranean will feature a fourteen-storey, five-star hotel with more than 500 luxury guest rooms and suites, approximately 10,000 square meters of MICE space, an outdoor amphitheatre, a family adventure park, and a variety of fine-dining outlets and luxury retail.
To live at Limassol Greens is to enjoy the best that life has to offer. Indulge in succulent culinary experiences, get in touch with nature and history, ravish the bustling city nightlife or try your luck at the casino.
You can have it all.
LIMASSOL
THE CITY OF CONTEMPORARY MEDITERRANEAN LIVING
Not many places in the world can perfectly balance the lifestyle of island living with the flair of cosmopolitan destinations. Limassol is a true gem in that sense, offering miles of sandy beaches with crystal blue waters, a bustling nightlife with suave culinary experiences, diverse entertainment and an ever-growing discovery of culture, history and heritage. The city boasts an array of high performing private schools and universities, an energetic financial and business community and the largest Casino in the Mediterranean.
A state-of-the-art superyacht Marina has become a landmark for the city, complimented by the development of the Old Port and the waterfront promenade that stretches for miles. Cyprus principal commercial port encapsulates the shipping industry's success story while Larnaca and Paphos airports can be reached within a 40-minute drive. It's no wonder then that it is constantly ranked among the 100 best cities in the world becoming the most sought-after place for international investors and families.